On April 23, the spring issue of the magazine "WAREHOUSES OF RUSSIA" published the results of the annual research of the WMS-systems market in Russia, which has been carried out by the magazine.
According to analysts, "Solvo.WMS moved from fifth place to the second place having doubled its share. At the same time, the cost and number of projects of the oldest market participant increased. Also, Solvo has seriously increased exports to neighboring countries, which are not taken into account in our review."
Thus, Solvo.WMS increased its market share from 5% to 14%, second only to 1C. In total, the hit parade included 17 systems that form 87% of the total pie.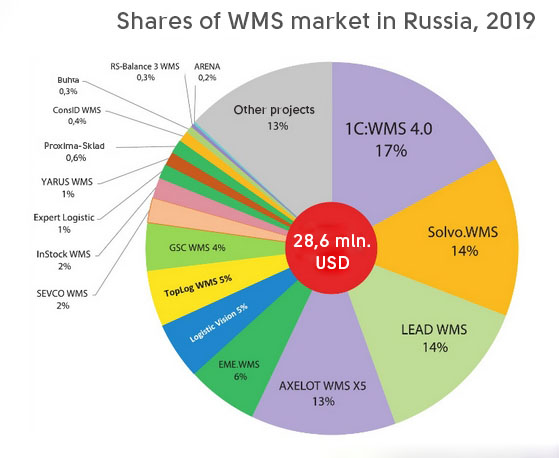 According to the source, the players' market share is estimated by experts as a complex indicator, which value is affected by such metrics as the number of completed projects for the period, the number of initiated but not completed projects, as well as the total revenue of the vendor in terms of licenses and services in this area.

In general, according to analysts, the Warehouse Management Systems market in Russia in 2019 showed a slight decrease. Monopolization of the market intensified, more than half of it belongs to only three players, and three quarters – to the first seven companies.
Traditionally, market participants - experts from vendor companies - were interviewed. They shared their views on the current situation, trends and prospects for the development of warehouse logistics automation technologies.

The following questions were asked in the research of IT companies to their representatives:
1. How do you assess the prospects of WMS cloud systems in the Russian market? Arguing the pros and cons? Are there any customer requests for such a product?
2. On your opinion, how quickly will they start using AI in WMS?
3. What do you think, what operations or functions of WMS will be first developed using AI and ML?

Daniel Pershin, head of marketing of Solvo, commented on the current situation as follows:

1. "Cloud WMS today is most often understood as the warehouse management system that is provided by the vendor to the client using the Software as a Service (SaaS) service model. Thus, the system is not physically transferred to the client, but is leased remotely via the Internet channel for a monthly fee. For this type of solution, a niche in Russia has long been formed - these are small, most often rented for a while, warehouses with an area of 500-1500 square meters. With the growth of this category of customers, the offer of cloud WMS will also grow. As for companies with medium and large warehouses - production and trade-production holdings, 3PL-operators - here we see that the SaaS model is not popular, that is, the traditional model of purchasing licenses prevails. This is a feature of the Russian market, companies are very wary of transferring their data to the side, as well as using software not in their ownership. However, this type of client has a demand for individual cloud models, such as Infrastructure as a Service (IaaS), when the company's servers are located, for example, in remote data centers. In this case, various deployment models can be used - Private Cloud (own data center), Public Cloud (public data center) or Hybrid Cloud. There are many companies among our clients that have used these scenarios for implementing Solvo.WMS using Public Cloud on Microsoft Azure or Private Cloud VMware sSphere. One of such customers is ABInBev Russia."
2. 3. "Leading global companies are already using AI and ML in conjunction with WMS. This is also used to optimize voice-picking and replenishment, as well as to forecast demand, for example, in the process of slotting optimization. Obviously, warehouses generate large amounts of data - about expected deliveries, inventory, order contents, customer data, and so on. Artificial intelligence can simplify the process of collecting and analyzing this data, as well as predict incoming and outgoing flows. Based on the predicted data, WMS will be able to automatically start or stop processes such as: replenishment of the selection zone, cell densification or crowding out.
Speaking about speech recognition, we can give an example when, thanks to AI modules, WMS can recognize the voice (including tonality) of a particular warehouse operator, collect statistics on assembly speed, analyze this data and further recommend managers to use a specific operator to perform certain tasks.
Finally, another important aspect of the application of artificial intelligence technology is the use of robotics controlled by WMS. Receiving and processing all kinds of commands from WMS or WCS systems, thanks to AI, robots will independently "learn" and adjust their actions in case of problem situations without human intervention."

See the full WMS market overview here (available in Russian by subscription).