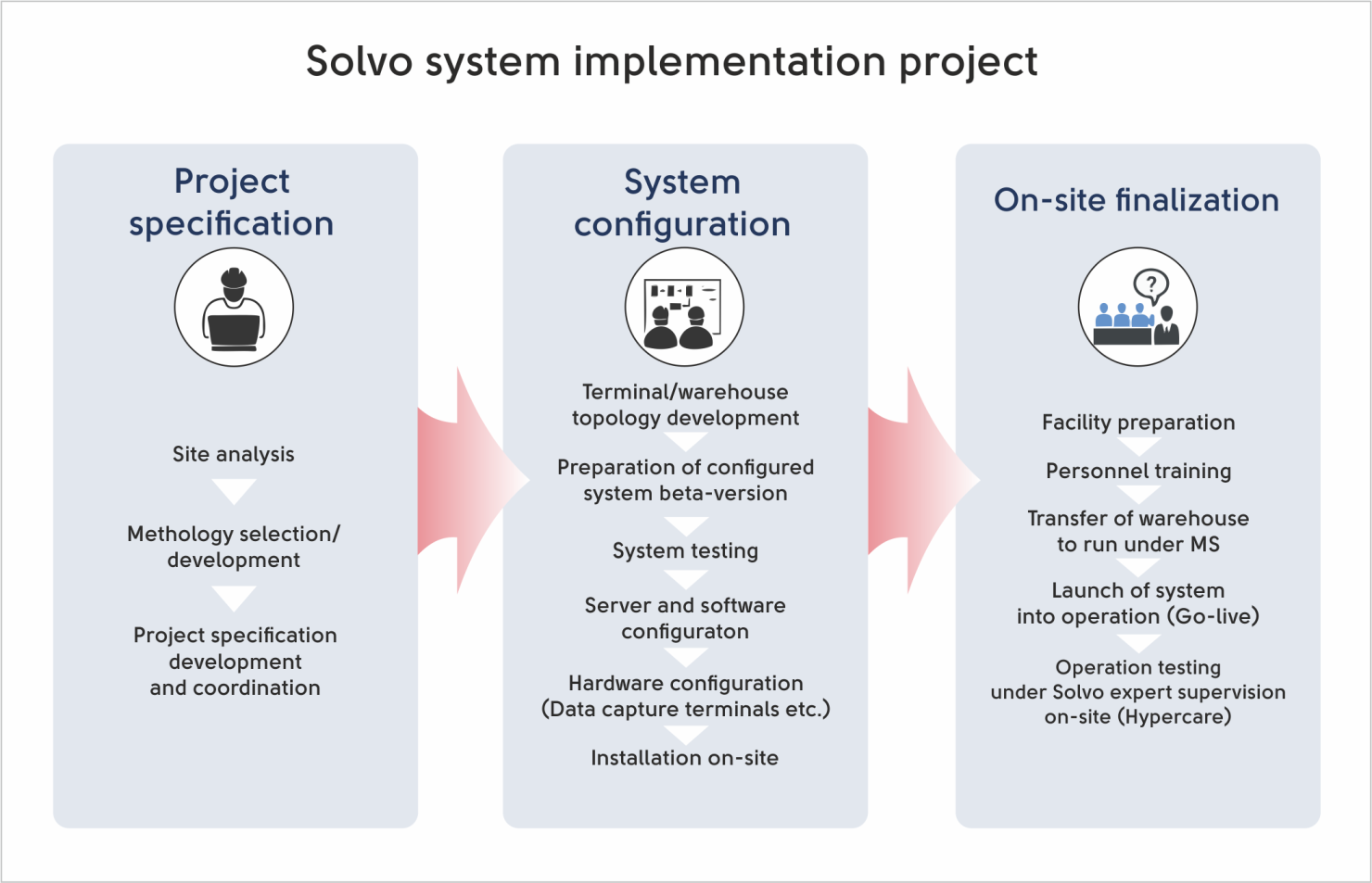 A typical implementation project at the warehouse takes 4-6 calendar months from the moment the contract is signed to its launch into commercial operation. It consists of 3 stages with a duration of 6, 8 and 6 weeks.
Procedure & timetable
The project is carried out in four subsequent stages, project design development, configuration and testing, launch into commercial operations, and technical support.

Implementation team
The exact team from the SOLVO side is usually determined at the first stage of the project. As a rule, it includes: the project head, analytic, implementation engineer, testers, technical writers, and others.
Each implementation project consists of three stages:

Stage 1. Project design development
This involves preparation of a document describing the technology behind the Management System at the warehouse complex. The design specifications are prepared based on the "Description of the Basic Management System and description of additional System functions." It analyzes requirements, which may not be supported by the System, and develops ways to resolve any discrepancies. The final version of the technical specifications for the interface between the System and the corporate system is formalized with the Customer.
Stage duration – 1.5 calendar months.
Stage 2. Configuration and testing
This stage includes:
Introduction of warehouse topology into the system;

Entry of reference information (reference lists);

Management System configuration;

Development and testing of an extended interface;

Assembly and testing of the Management System;

Preparations of technical documentation.
Stage duration – 2 calendar months.
Stage 3. Launch into commercial operation
The final stage includes:
Equipment configuration;

Management system software configuration;

Warehouse preparation (zone marking, addressing etc.);

Personnel training;

System testing;

System field testing;

Follow-up System configuration based on testing results;

Launch into commercial operation.
Stage duration – 1.5 calendar months on average.
In whole, the project requires 4-6 calendar months.