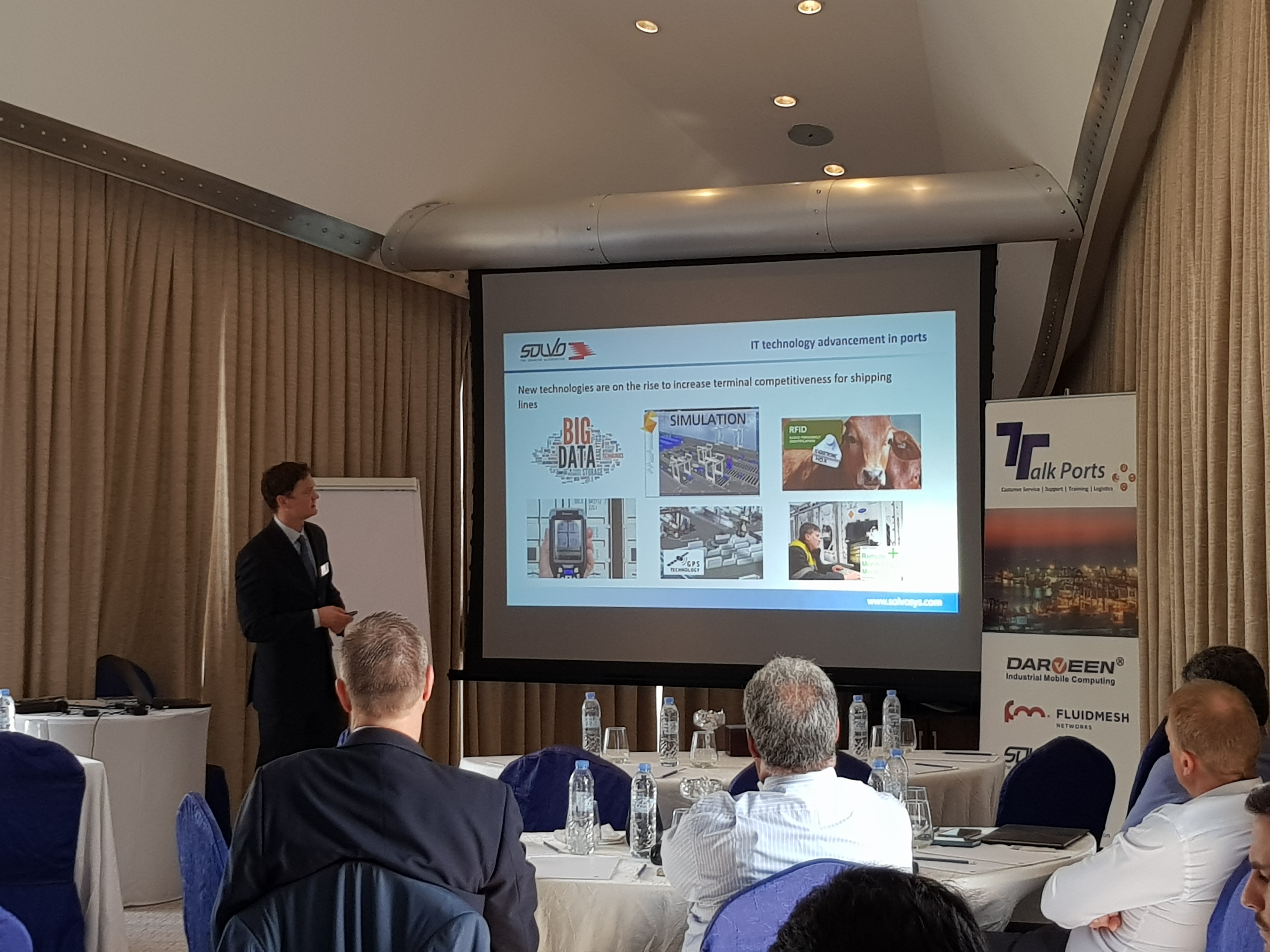 Terminal Customers Explore New Efficiencies
On October 9th, Solvo took part in the Terminal Industry Technical Symposium at Dubai Creek Golf & Yacht Club, attended by customers of the world's biggest container ports and representatives of big-name terminal operators.
This summit not only helped Solvo make inroads in the Middle-Easter region, but also served as a springboard for new partnerships as part of its global expansion strategy.
Talk Port CEO Mr. John Spreadborough opened the event with a keynote speech, noting that Talk Port will continue to explore new technologies and new products together with suppliers to introduce new efficiencies for terminal customers.
Regional and global operators such as CMA CGM, DP World, and the Abu Dhabi Ports Company were among the attendees who listened to presentation from leading IT solution vendors including Solvo.
Solvo Gains a Foothold in the Mid-East
The seminar served as the perfect opportunity for Solvo, as well as Solvo's strategic partner Visy, to explain how the latest technological advancements will help ports become more efficient and connected.

Solvo marketing director Daniel Pershin delivered a presentation focused on helping container and break-bulk terminals achieve new levels of efficiency with less investment.

Seminar attendees listened to Pershin who outlined the benefits of out-of-the box integrations between various IT solutions and Solvo.TOS and provide 'smart terminal' functionality in the digital age.

The combination Big Data, RFID, 3D mapping, voice-commands, and others can help terminal operators increase their competitiveness on the global market, according to Pershin.

What's more, picking the right IT solution can not only reduce expenses for operators, but also make their cargo-handling operations more efficient – which become increasingly important particularly amid global economic uncertainty and potential downturns in global trade volume.
Other suppliers shared their industry experience as well, while terminal customers discussed current market trends, future vision, and shared their thoughts on how IT and new technology will change the port industry.
You can check out photos from the event below.