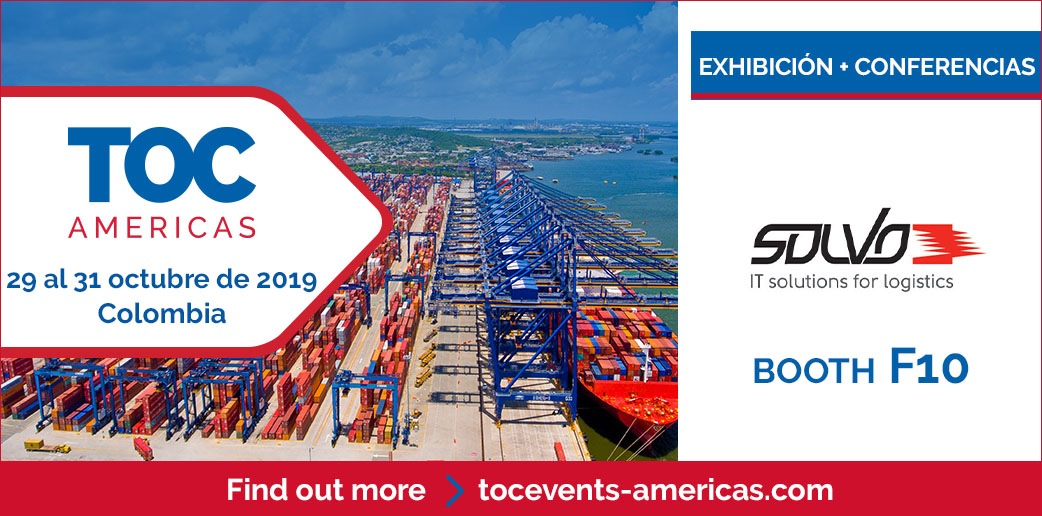 SOLVO will be exhibiting at TOC Americas 2019, a specialized event organized for container terminal operators and their suppliers. The TOC of today has evolved into a complete container supply chain event, delivering both technical content and offering a platform to the stakeholders higher up in the cargo chain.
The free-to-attend exhibition provides visitors across the Americas region with the opportunity to meet port equipment manufacturers, second tier suppliers and certainly global vendors of IT solutions for supply chain execution such as SOLVO.
This year the exhibition will take place on the 29th-31st of October in Cartagena, Colombia.

SOLVO is glad to welcome everyone at the stand #F10 in the main hall to check out the latest solutions we offer including the new native Android app suitable for any handheld or cabin-mounted devices used at general cargo and multi-purpose terminals. The app is already being successfully used by our clients in different parts of the World.
You will be able to learn about the latest versions of our terminal operating system Solvo.TOS 6.0, which successfully combined systems for Container and General Cargo into a single unified platform for all cargo types including containers, general cargo and Ro-Ro and how operators in different part s of the World migrate to Solvo 6.x. from their legacy systems.
Solvo will also showcase other vertical solutions based on Solvo.TOS platform such as: Solvo.TOS for Inland Container and Rail Terminals; Solvo Vehicle Booking and Gate Management solutions, Solvo.Billing and more.

The new platform features such modules and functions as an all-new WEB interface, new API, new stowage planning module with autostow capabilities for general cargo and Ro-Ro; advanced equipment optimization module, block-train management, new berth planning module, KPI dashboards, resource planning and VGM compliance.
Visitors will be also able to learn about the factors affecting TOS implementation at the multipurpose facilities, inland terminals and warehouses. For example you may learn how to handle non-standard ships including ConRo, on-board ship cranes etc. Is CHE optimization a real need or just a good-to-have fancy feature? Automated block train identification and tracking and scheduling – how is it different from a single rail car planning.
We are looking forward to seeing you at this year's TOC Americas in Cartagena!