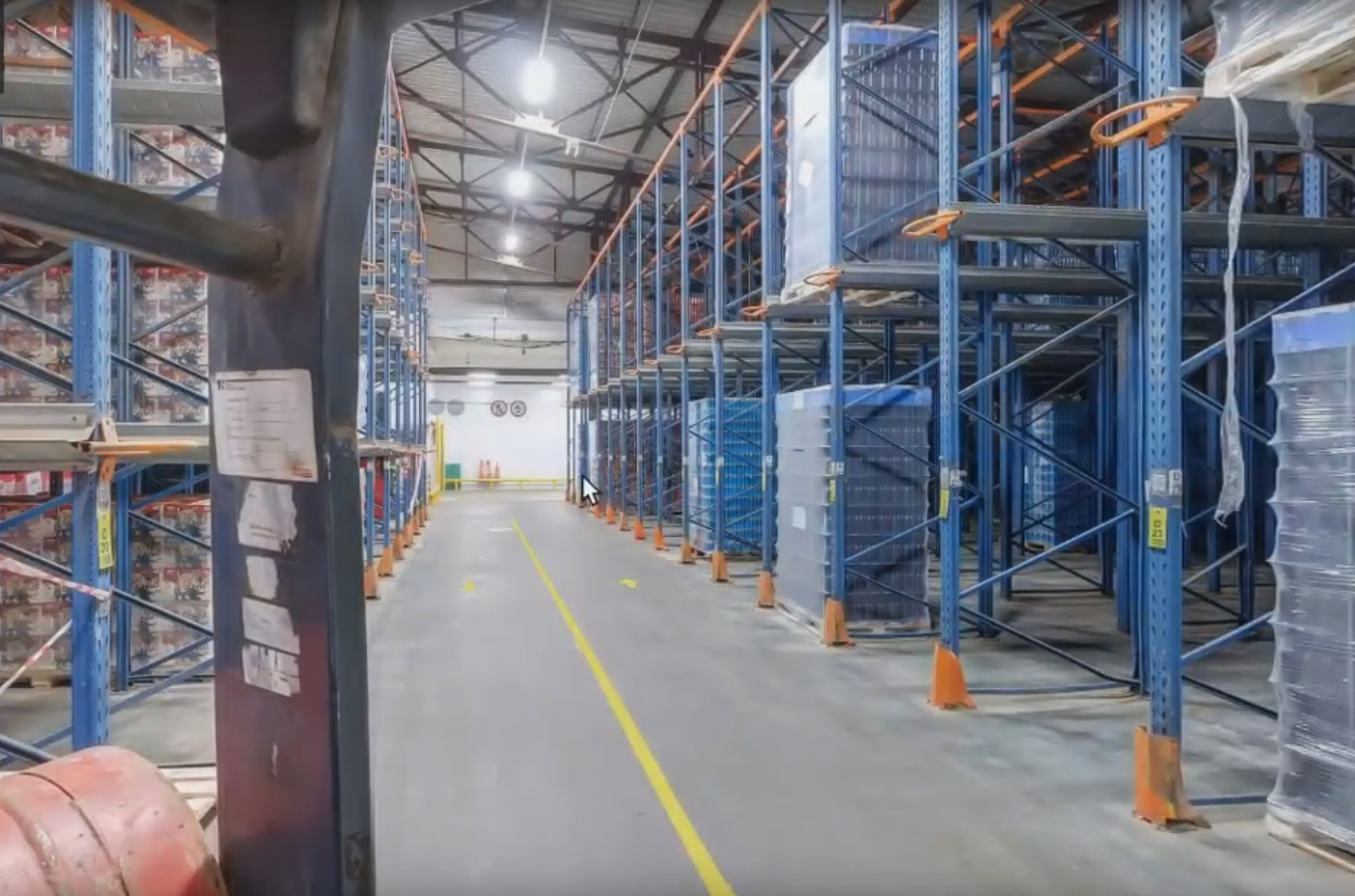 Operations at 5 main AB InBev warehouses across Russia have been automated as of Q4 2018 in result of a three year partnership between the world's biggest brewer and Solvo.
Solvo.WMS's version for production warehouses was implemented at facilities in Omsk, Klin, Volzhskiy, Saransk, and Ivanovo. Solvo.WMS and ERP from SAP are working in tandem with Solvo.Yard to facilitate operations with external road transport.
Another 5 Russia-based warehouses of a smaller scale in Moscow oblast, Perm, Tumen, and Saint Petersburg, saw the implementation of Solvo.WMS Light using wired data capture terminals for tracking SSCC codes during order shipping.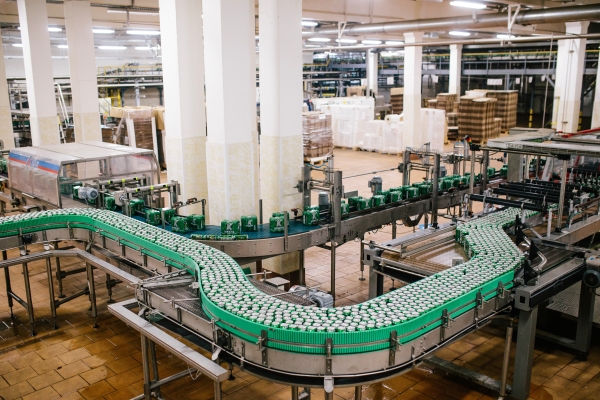 Worthy of note is that these projects saw SOLVO work not only as a software and hardware vendor, but also as a general contractor for rolling out the IT infrastructure at the warehouse including the wireless and energy supply networks.
Main warehouse characteristics
Solvo.WMS is responsible for controlling operations at the finished goods storage facilities, distribution centers, and raw material warehouses. These facilities have varying areas ranging from 2,000 m2 to 25,000 m2. The warehouses process cargo with various package types – beer kegs, bottles, cans – with different types of storage systems such as rack, stack, shuttle, drive-in rack, gravitational racks, and mezzanine storage for carton picking.
WMS and warehouse process optimization
The warehouses of AB InBev uses various technologies for receiving goods – from production of external supplier as well as neighboring warehouses.
In particular, wave scanning technology is used for goods to record and track and arrival of pallets from one warehouse to another via the conveyor line.
Because of this, SOLVO worked closely with Honeywell to develop a scanning device with a long-range embedded Honeywell scanner, which can automatically recognize the pallet barcode on the conveyor line. The device makes it possible to scan any incoming pallet on-the-fly regardless of barcode label position on the readable side of the pallet.
The semi-automatic receiving algorithm is also applied when the barcode labels are printed at the production facility with information about the cargo and inserted into the pallets, which is then sent to the warehouse via the conveyor line. The acceptance-delivery agent at the warehouse must only scan the label on the pallet to enter the cargo into the system without any additional action.

The warehouse in Klin uses shuttle cargo storage, and now it is possible to optimize the product putaway process in the shuttle zone thanks to the WMS system from Solvo.
Depending on current remaining products in the location of the shuttle rack, the system will instruct the operator from which side of the rack the load must be placed based in order to follow the FEFO principle.
The WMS keeps track of shuttles and supports a special registration form for warehouse operators, providing the ability to work with any shuttle at any specific moment in time. The given function helps control the material responsibility of operators.
Subloc technology is used for working with various types of pallets – American (2 pallets in one section) and standard euro-pallets (3 pallets) – making it possible to automatically track and control load placement inside the location.
Standard automation technologies are used during standard putaway, including automatic task issuing for data capture operators with consideration of goods' velocity (ABC-analysis).
Solvo.WMS optimized the cross-docking process with the system determining whether to place products into rows or deliver it for shipping based on previously configured rules. Meanwhile, Solvo.WMS takes into account priorities of various cross-docking methods: to the transporter (transit to second warehouse), using road, rail transport etc.
Moreover, Solvo.WMS has made it possible to plan orders automatically with consideration of remaining shelf life (RSL), FEFO and other client requests.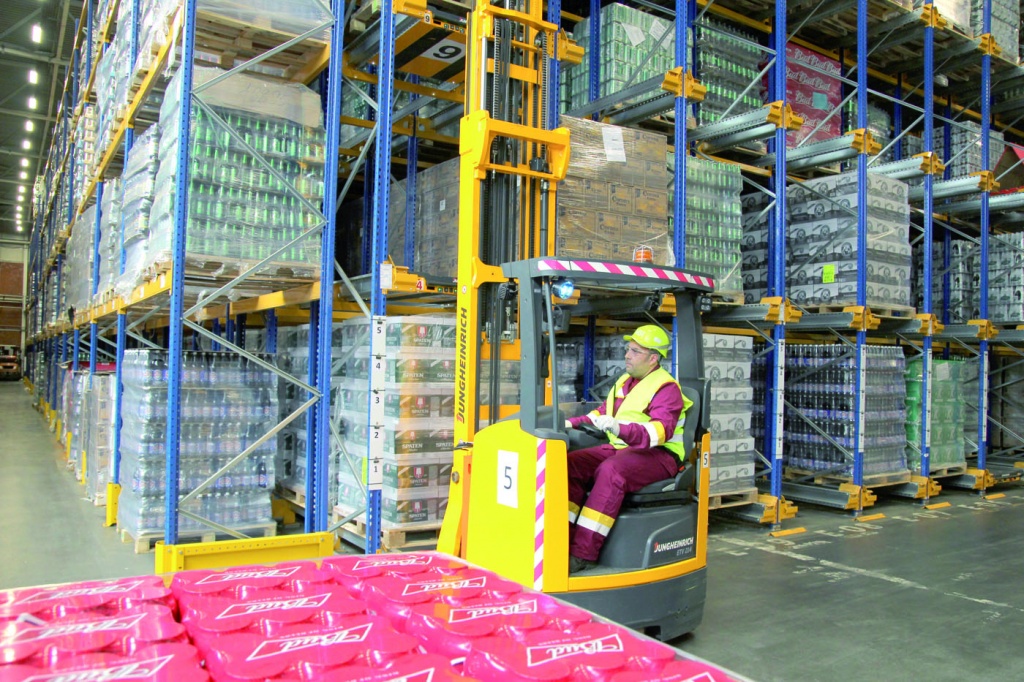 The system supports various replenishment and picking technologies at AB InBev warehouses:
• Picking zone replenishment by order;
• Reachstacker drivers picks pallets/replenishes picking zone, while forklifts assemble pallets based on WMS tasks;
• System plans remaining goods automatically;
• Mixed type of order picking: using data capture terminals and paper.
Some warehouses use transit technology when the system assigns buffer (transit) locations for transferring loads between various warehouse zones, for example, between the picking and shipping zones.
Solvo.WMS takes into account various warehouse process specifics and, in particular, automates the repacking process. The process involves packing 6 beer bottles per carton. The cartons are then transported to the warehouse for storage. During picking, Solvo.WMS creates a picking list based on documents from SAP ERP. If the client requests to ship using cartons different in size from the production packages (e.g. 4 or 20 bottles per carton), Solvo.WMS will automatically issue a repacking task to operators.
This means that part of the goods will be returned to production and the repacking process will be launched. Next, the repacked goods will be accepted back at the warehouse based on a special "express receiving" algorithm in WMS, where it will be delivered directly to shipping (cross-docking). Meanwhile, the WMS will send a message to SAP at each step notifying that a given process was launched (e.g. goods sent to production, return to warehouse).
'Remote warehouse' technology
AB InBev uses the Solvo.WMS "Remote warehouse" module to manage its regional warehouses, which involves using a single cloud-based application and database server for all company warehouses. Meanwhile each warehouse in the system has its own unique parameters and configurations. However, from the WMS perspective in case with AB InBev each warehouse is considered to be an equal object (in contrast to the option of managing regional warehouses from the main central headquarters as, for example, it was realized in the Royal Canin case).
Virtual cloud-based server and IAAS
AB InBev warehouses became one of the first to operate using IAAS (Infrastructure as a service) technology, which involves using virtual servers in an external data processing center. Therefore, for example, warehouses in Omsk and Klin use virtual servers based on VMware vSphere 5 in the datacenter of Capgemini (Amsterdam, Netherlands), connected via the MPLS-tunnel. Meanwhile, all warehouses use client applications supporting over 30 managers and 50 data capture device operators.
Using leading testing technologies
Another specificity of implementing Solvo.WMS for AB InBev was validating testing technologies in accordance with international standards:
SIT (system integration test)
• Finalize development of gateway functionality;
• Integration with SAP ERP;
• Description of scenarios for testing in accordance with SAP consultants and their specialists;
UAT (user acceptance testing)
• Selecting key users (8-10 ppl);
• Intensive training;
• Evaluating work as is and to be (expected result)
Regression test
• Checking version compatibility (when transitioning from one WMS version to another)
Pilot test
• Step-by-step processes launch;
• Checking process and document parts (non-critical).
Turnkey engineering infrastructure
The given project also saw SOLVO serve as the general contractor for creating and rolling out infrastructure systems. In particular, SOLVO was responsible for delivery, installation and configuration of Cisco network equipment, including controllers, access points, cable and fiber optic cabling systems, energy supply systems, delivery and configuration of data capture terminals from Honeywell, (hand-held Intermec terminals and cabin-mounted HW Thor terminals).
Implementation results
The goals of introducing the new systems included:
• Increasing CHE operator productivity;
• Reduce time to find SKU;
• Reduce returns and penalties for not following RSL during shipping, repacking, resorting, and picking errors.
The results of system implementation were obtained by analyzing key performance indicators, created based on the aforementioned objectives: