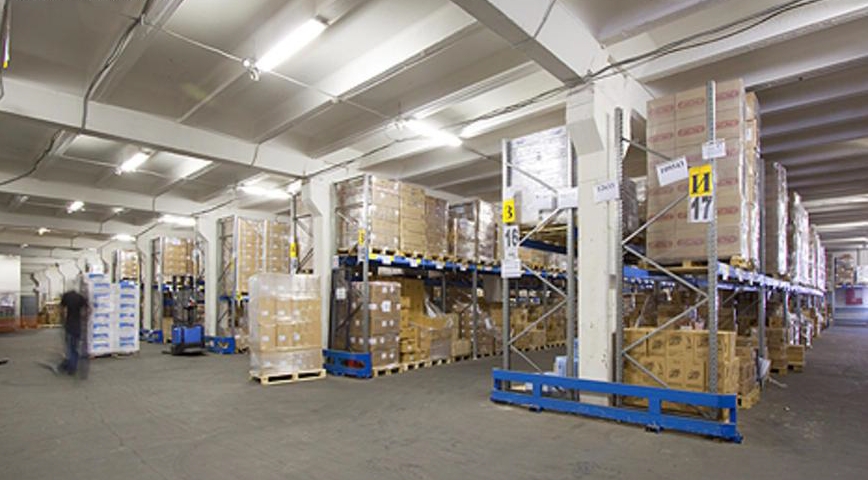 Warehouse specs
The ready-made goods warehouse for UNIVITA is located in Moscow. It is a multi-story refrigerated warehouse with 8 refrigerator rooms on two floors, an elevator and a ramp. The total area of the usable space is 3,400 m2. The warehouse works 24/7 at a refrigerator room temperature between +2 and +5 С. It is equipped with drive-in racks and a floor storage zone. The total storage capacity comprises 1,200 pallets. Goods are assembled by pallet and carton.
The number of active SKUs is 614 with an average quantity of 40 per day. The load handling equipment included a forklift, reachstackers and 10 hand carts.
Project details
The full fledged warehouse management system Solvo.WMS was installed at the warehouse with a configuration for production facilities for 30 users.
The WMS is integrated with the enterprise host system – 1С. This enables all operations to be tracked in real time with the help of state of the art data capture terminals. For working inside refrigerated rooms, SOLVO delivered the Honeywell Tecton CS devices, which are specifically designed for colder temperatures.
One of the main aspects of implementing Solvo.WMS was the configuration of the catch weight goods function. This involves the scanning of a special input of weight data from the carton and pallet labels during receiving and order picking operations. The weight of these labels is embedded in a 13-symbol barcode and indicated in grams. At the same time, the host system of UNIVITA tracks the weight in kilograms. For correct accounting of catch weight data, Solvo.WMS uses special configurations to process scanned data from labels recording the information in kilograms.
About UNIVITA
UNIVITA has been operating on the Russian market for over 10 years and is the exclusive distributor of the Lithuanian-based plants ZEMAITIJOS PIENAS and ZEMAITIJOS PIENAS and the official distributor of ROKISKIO SURIS, VIKYSKIU SURIAI and SVALIA.UNIVITA includes such Lithuanian cheese brands as Jugas, Svalya, Dvaro, Edam, Gauda, Tiljes, Prussya, Villnus, Pizzarella, and many more. The products are available at such retailers as Ashaun, Metro, Real, Pyaterochka, Magnit, Diksi, Perekrestok, and many others