We are glad to announce that at the end of 2019, Solvo.WMS successfully passed the annual validation of the German research institute of goods distribution Fraunhofer IML according to the VDI 3601 standard and received a certificate with a seal confirming a full assessment of the WMS functionality.
As part of the WMS demonstration and testing at the German laboratory in Dortmund, SOLVO's representatives presented a new version of the Solvo.WMS 5.6.
Fraunhofer experts, in addition to new functions, also validated the capabilities of the system, which at different times have already successfully proven themselves in various projects.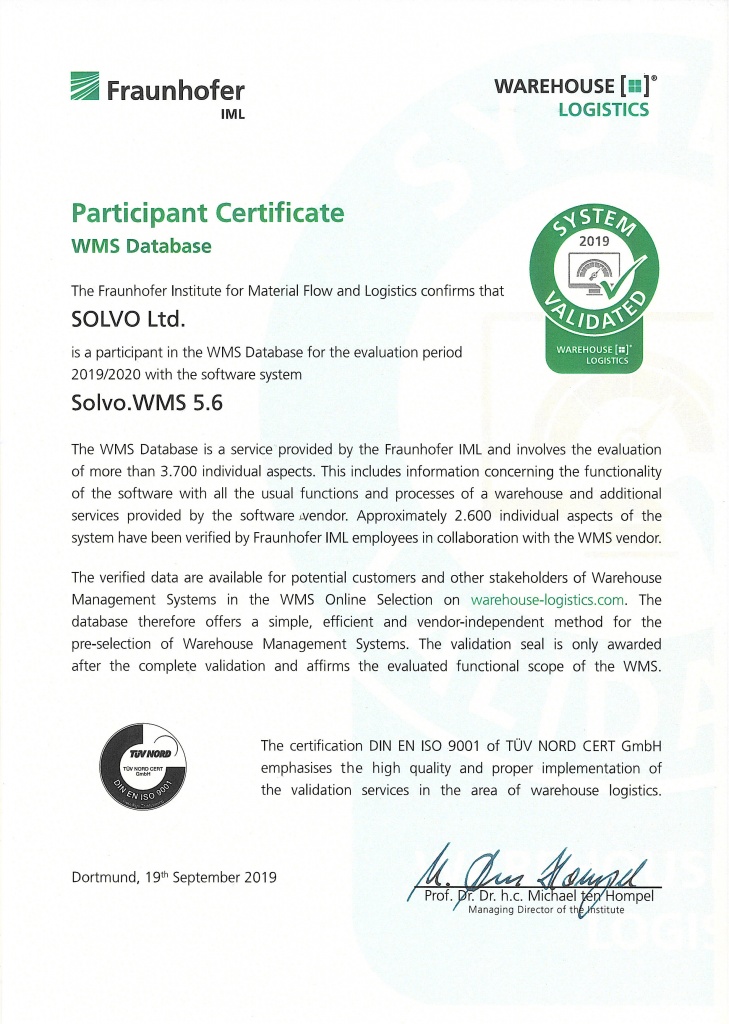 Among the functions and modules that were validated this year, are following:
Integration of Solvo.WMS with the SOLVO web-portal of technical support to ensure the operation of the application processing mechanism;
The ability of the Solvo.WMS system to work simultaneously with several ERP - gateway routing settings;
Various WMS operating modes with multi-sized cells;
Possibility of forming sets (kitting);
Features of ASN acceptance: automatic transfer of information about the consignment and serial numbers, acceptance rules taking into account the owner and goods / commodity group;
Compaction function and the possibility of manual re-placement of goods according to the rules;
Possibility of rolling cargo recount during selection;
Strategies for uniform planning of selection for travel;
Possibilities of artificial intelligence of the system during selection: WMS recommends the type of container for selection (for example, small, medium or large) depending on the selection sheet;
WMS capabilities when working with stuffed racks (including Double-Deep), as well as shuttle storage systems, including the capabilities of the ABC analysis module when placing goods in these areas;
Support for weighted goods;
Automated registration of serial numbers during selection and packaging in the context of the cargo itself and the owners.
Many of the above technologies were successfully implemented last year at SOLVO's customers' warehouses, such as Moscow Brewing Company, BeeLogistic and others as part of system modernization projects.
Each year, Fraunhofer IML validates popular WMS systems from the largest suppliers from around the world, including Solvo.WMS, according to more than 2600 different criteria regarding software functionality and warehouse processes, as well as additional services provided by the vendor.
Solvo.WMS can be found on the online database of validated Fraunhofer systems at warehouse-logistics.com. According to the necessary criteria, the client will be able to independently, simply and efficiently evaluate and select a proven WMS system.