TOC Europe exhibition is a regular venue for the container supply chain professionals such as shipping lines, terminal and logistic services operators, forwarders, shippers, suppliers, IT solution providers meet on the annual basis. This year as usual it will take place at Ahoy Rotterdam, The Netherlands, June 18-20.
We will be welcoming everyone at the stand in the main hall together with our distributors – Solvo Europe B.V and technology partners.
Register now
to get a free ticket to the exhibition and visit SOLVO's stand
#C72
, Hall 1, to check out the latest solutions we offer, have a look at the mobile samples with our new native Android app and get gifts from Solvo. You will be able to learn about the latest version of our terminal operating system Solvo.TOS 6.0, which successfully combined Solvo.TOS Container and Solvo.TOS General Cargo into a single unified platform for all cargo types including containers, general cargo and Ro-Ro and how operators in different part s of the World migrate to Solvo 6.x. from their legacy systems.
The new platform features an all-new WEB interface, new API, new stowage planning module with autostow capabilities for general cargo and Ro-Ro; advanced equipment optimization module, block-train management, new berth planning module, KPI dashboards, resource planning, VGM compliance, and much more.
On June 18th, visitors will also get a chance to join the TOS Session at TECH TOC from 15:39 - 17:00 where Daniil Pershin, Director of Marketing and PR at Solvo LLC will be speaking about cutting-edge technology to help boost mixed cargo operations efficiency: vessel and rail planning, yard optimization and gate management. Based on case studies in the Antwerp Euro Terminal (AET) operated by Grimaldi Lines and Novosibirsk rail terminal.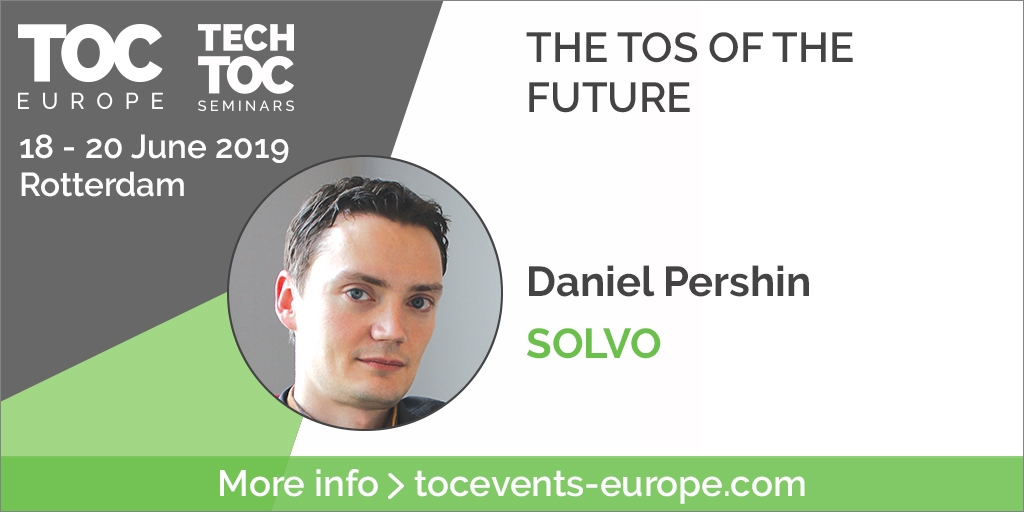 Attendees will learn about the factors affecting TOS implementation complexity at the multipurpose facilities, how to handle non-standard ships including ConRo, on-board ship cranes etc. Is CHE optimization a real need or just a good-to-have fancy feature? Automated block train identification and tracking and scheduling – how is it different from a single rail car planning.

We are looking forward to seeing you at this year's TOC Europe in Rotterdam!
Get your free ticket and a gift from Solvo Europe B.V.
by filling out the registration form
.