Solvo.TOS went live at Port Bronka container terminal.
It was a special project for SOLVO since implementation was being carried out in parallel with the Bronka port launch into commercial operation from scratch. On one side, these conditions make implementation works easier. On the other, this introduces additional responsibility. However, it should be noted that the first container at the port was received under Solvo.TOS.
Bronka is a new, modern, deepwater port, which is expected to become one of the key cargo shipping areas in The Big Port of Saint Petersburg, integrated into the logistics infrastructure of Saint Petersburg for container and Ro-Ro handling. The operator and investor of the port is LLC "Fenix."
The throughput capacity of Bronka will make it possible to process 1.45 million TEUs and 260 thousand Ro-Ro cargo units. Later, the capacity will be expanded up to 1.9 million TEUs and 260 thousand Ro-Ro cargo units per year. The port can accommodate Post-Panamax class containerships and Finnstar class ferries.
Bronka includes three specialized facilities: container terminal (area of 107 hectares), Ro-Ro terminal, and a logistics center.
The container terminal employs 4 Post-Panamax berth cranes, an LHM-800 port mobile crane, 10 RTG cranes, terminal tractors, reachstackers, and forklifts.
Solvo.TOS was a top choice for Port Bronka as SOLVO is the leader on the port and terminal management systems market with extensive experience in developing and implementing such solution at major container terminals in Russia.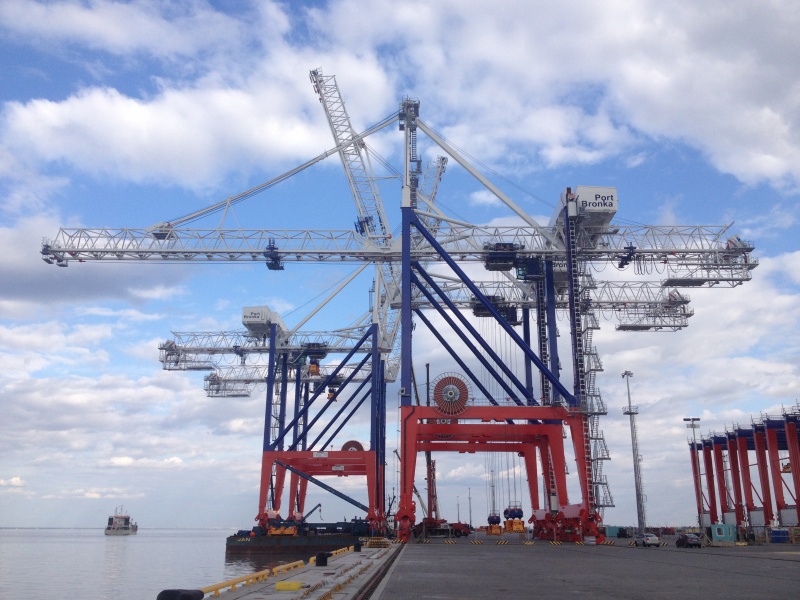 The first negotiations with Bronka Port representatives started 5 years ago before the terminal was built. Consultations were held in regards to IT-infrastructure of the future port where the system would be implemented. It should be noted that that the consultation and expert support for Port Bronka was provided by the German company Hamburg Port Consulting GmbH (HPC), which has its own TOS solution in its arsenal. Nevertheless, the tender process resulted in Fenix choosing SOLVO as a fully-fledged solution that was better suited for the Russian stevedoring business.
The Solvo.TOS was launched at Port Bronka at the greenfield container terminal, i.e. from scratch. The first container was received with the help of Solvo.TOS.
Apart from software deployment Solvo was selected as general contractor for related hardware and infrastructural works.
Solvo conducted wireless networks deployment including audit and preparations as well as a the development of a gateway between TOS and 3rd party hardware and software.
Solvo.TOS was configured to take into specifics of Bronka's yard, vessel, rail and road transport processing and among others includes such functionality as:
Solvo.WEB portal with expanded functionality for cargo forwarders and shipping line agents.
The terminal equipment management module was also implemented for management and optimization of operations with cargo-handling equipment - berth and RTG cranes, terminal tractors etc.
Optimization of operations related to storage and release of cargo, as well as automatic tracking of empty containers including unnumbered containers, thanks to the Empty container depot module.
Reefer container storage zone management
Integration with certified customs information system was carried out to provide information about import containers.
Parking area management is also supported via integration between Solvo.TOS and IS "Bronka" (in-house ERP system). This allowed to track truck in-gate and out-gate movements. Moreover, SOLVO developed a custom solution based on customer request for a special self-service kiosk to assist truck drivers at the port entry point.
Solvo.TOS was also integrated with the onboard Konecranes system to automate processes related to container positioning and precision placement in the stack.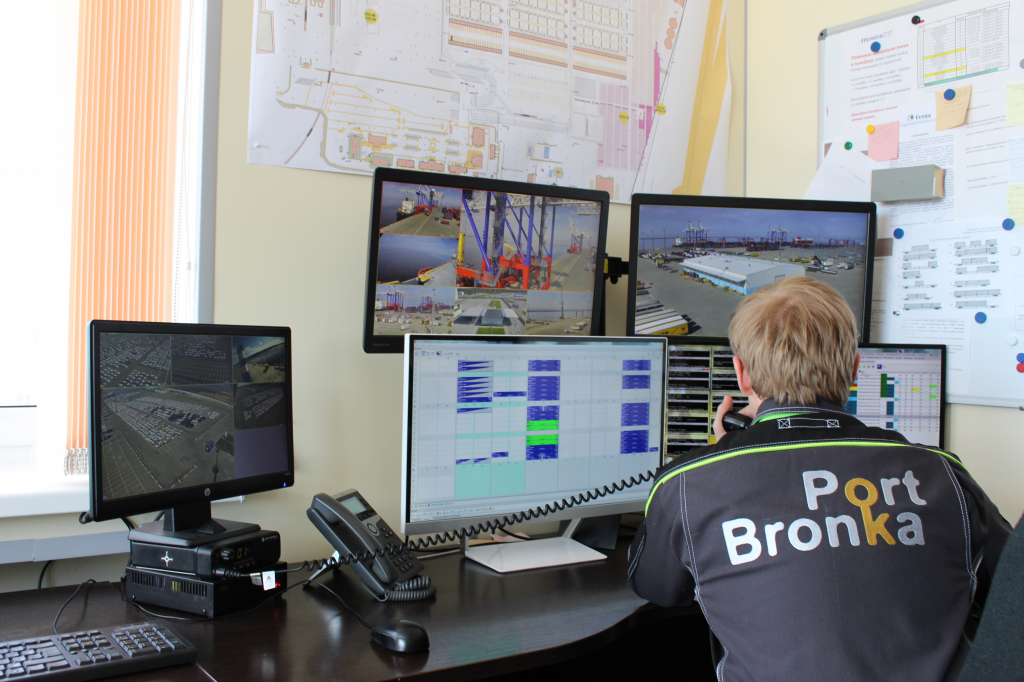 Digital network infrastructure and roll-out of infrastructure systems
SOLVO also concluded an agreement to create IT-infrastructure at the terminal that includes structured cabling systems, Wi-Fi network etc.
SOLVO delivered network equipment from Huawei Enterprise to build the wireless system: wireless controllers, access points, antennas, eSight Enterprise Operation System, Agile Controller access point servers, and Business Integrated Equipment Configuration.
As a part of the project SOLVO specialists installed the Huawei Enterprise Wireless Data Transfer system and carried out start-up and commissioning of network equipment as well as supplied, configured and installed radio-data terminals for real-time management such as Thor VM1 and VM3 as well as Marathon hand-held terminals from Honeywell.
Results
When it reaches full capacity, Bronka is well-positioned to become the biggest customer of SOLVO by cargo turnover at the Big Port of Saint Petersburg. The terminal is expected to process up to 1.9 TEUs in the near future and with the help of Solvo.TOS Bronka is confident to handle the volume without having to do any tweaks or customizations to the system which ensures streamlined operation without any downtime.

This project become a milestone for SOLVO as a systems integrator with regards to the solutions and services it provides.