System structure
International standards compliant
Solvo.WMS is the only Russian-made system included in the international registry of WMS systems maintained by the IML Fraunhofer (Dortmund, Germany). Each year, Solvo.WMS is audited and validated in accordance with the institute's standards.
Following the latest audit, Solvo.WMS and its yard management module Solvo.Yard, the Fraunhofer institute validated and noted:
Compliance of the WMS with international standard VDI 3601
Comprehensive functionality;
High level of productivity.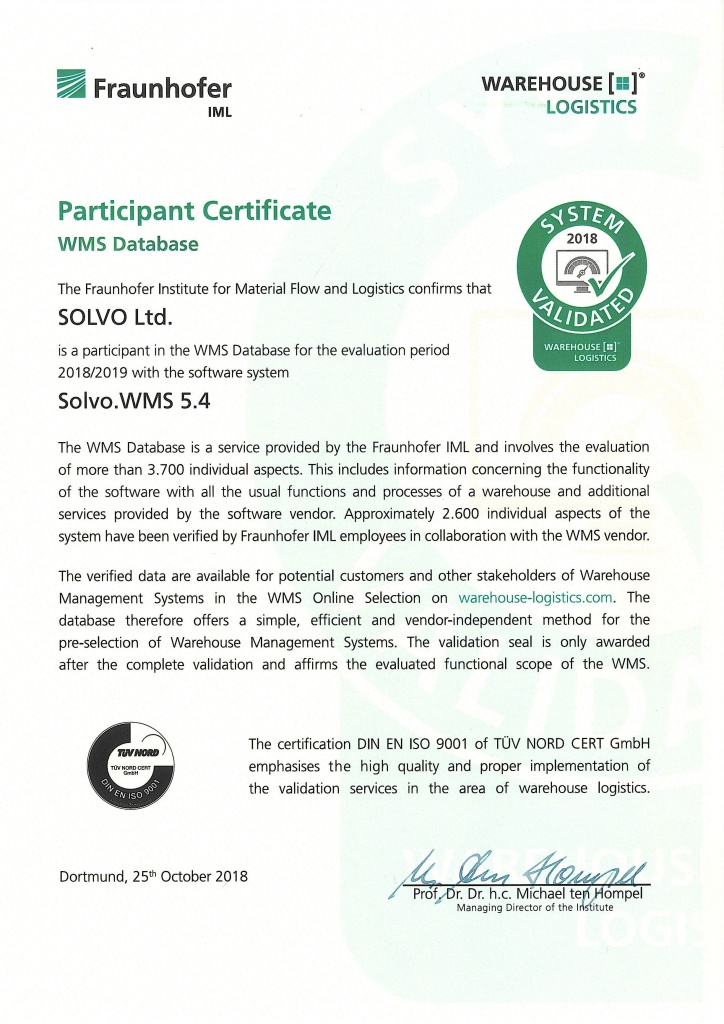 Based on the results of the "IT industry leaders - 2017" rating carried out by the "Enterprise management" portal of SOLVO resulted in Solvo.WMS winning the nomination of "IT Industry leaders-suppliers: Logistics Management (purchasing, SCE, SCM, WMS, TMS)."
Service-oriented WMS system architecture
The WMS system for yard management from SOLVO is founded on the Service-oriented Architecture (SOA) principle. This involves dividing the software solution into interconnected segments using standard protocols. Each segment is responsible for specific tasks that are logically independent from each other. SOA enables us to develop and implement separate modules for WMS logistics management without the need to update the entire system. A modular architecture approach also makes it possible to customize solutions to each customer's needs in an efficient way.
SOA implementation makes it possible to connect several modules with similar functionality if the existing system is unable to cope with rapidly growing business processes. For example, it is possible to install a terminal server when increasing the number of WMS yard management system users.
The advantages of using a service-oriented WMS include the ability for a business to operate 24/7. Program segments are added to servers without affecting their operations, resulting in undisrupted system uptime.
Modular structure
The WMS system from SOLVO consists of the main working environments with basic functions and a set of add-on modules based on Customer needs.
WMS and ERP integration
WMS solution from Solvo has a multitude of interfaces allowing for integration with existing enterprise IT systems. .
Supported data exchange methods include:
Web Services (XML, SOAP, WSDL)
Java Message Service
RESTful Web Services
Raw/SSL TCP sockets
DB exchange tables (ETL)
File sharing and exchange
E-mail automatic processing
Solvo has accumulated broad experience in integrating Solvo.WMS with ERP and other accounting system based on 1С:Enterprise, SAP, Microsoft Dynamics AX, and NAV, Monolit-Info, Parus, Galaktika, and others.
WMS system fault-tolerance at the warehouse
The WMS has a double backup to protect data from unexpected disruption and downtime. The database is copied in the application server while the application database is copied on the data server. If any problems arise with one of the servers, the second will immediately go online and resume WMS operations.
Solvo.WMS technical support
We provide free SLA3 level support (the highest level available) for the first year of WMS operation. Later, the customer can sign a contract and choose the SLA support level.
WMS upgrades
If work processes at the warehouse change while the WMS system is operating, we can upgrade the system to adapt it to new processes or services.
Multiple system customization options are available:
Fine tuning the functionality (by the user as well as SOLVO experts)
Adding new rules and strategies (by SOLVO experts)
Development of new interfaces, features, modules (by SOLVO experts)
An upgrade can be carried out through an additional contract or included as part of technical support (depending on the SLA level and task complexity).
System Interfaces & Users