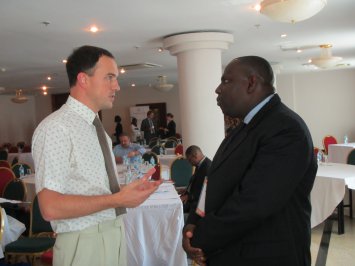 The African tour proved to be a key element in SOLVO's strategic push into foreign markets. From October 17th to the 18th, SOLVO took part in a one-of-a-kind event on the African continent – the Africa Ports and Rail Summit, which was held in Dar es Salaam, Tanzania.
This event marked the first time that SOLVO has ventured into the southern hemisphere. By European standards, Tanzania is considered to be a developing or, more precisely, a newly-industrialized country situated on the western coast of the Indian Ocean where one of the largest regional ports is located.
The summit included over 200 delegates from various East African countries i.e. representatives of ports, terminals, and rail operators. The SOLVO team held discussion with terminal operator representatives from the region. Currently, local ports are taking great strides to attract foreign investors and develop Greenfield and Brownfield terminal projects.

The business part of the summit included a presentation highlighting the new opportunities made possible by Solvo.TOS along with one-on-one meetings with representatives from the Russian embassy, local chambers of commerce and other organizations.

Here, you can view the presentation by Daniel Pershin, head of marketing, SOLVO, on terminal management system and their advantages, and SOLVO.TOS, in particular.